Many have memories of turning over trash cans and grabbing hair brushes to start bands with their siblings, but most probably didn't achieve stardom following their performance in the living room.
Various groups in the music industry beat that standard and demonstrate that when musical talent runs in the family, it's a recipe for success. 
Concert venues in the area seem to have had a Family Weekend of their own Sept. 20-22. Two bands composed entirely of brothers performed within a two-hour radius of Maryville.
AJR, an up-and-coming indie-pop band, performed Sept. 20 at Stir Cove in Council Bluffs, Iowa. The Jonas Brothers, a pop-rock band that got its start on Disney Channel in the early 2000s and recently reunited, performed at the Sprint Center in Kansas City, Missouri, Sept. 22.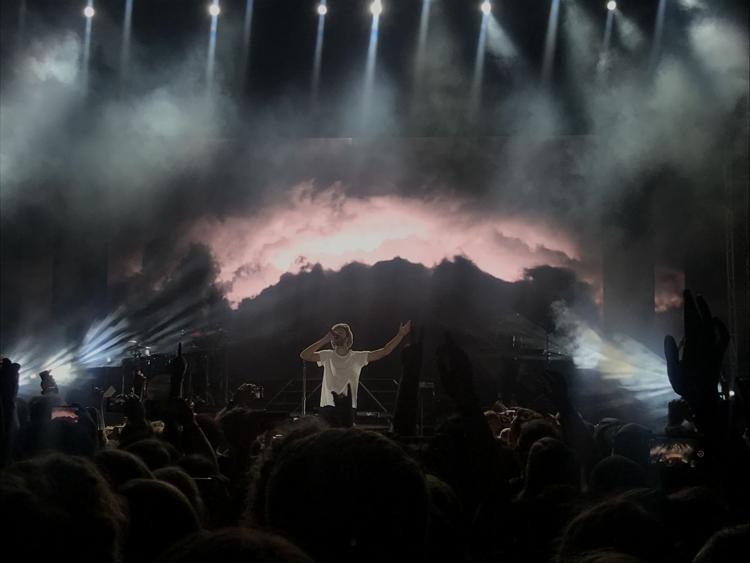 Juggling the dynamics of family and band proves to have its challenges and its rewards.
While sibling bickering matches are bound to arise, Jack Met, lead vocalist and one of three brothers featured in AJR, claimed having grown up together helps the band avoid some petty arguments most bands endure.
"A lot of people expect us to say that we fight all the time, but it's really not true," Jack Mett said, in an interview with Rolling Stone. "We grew up in one bedroom around the corner there – for 15 years. We all became close, so we all developed the same vision for a band. If there ever is a disagreement, it's very small. We really just want what's best for the band."
Shared experiences, childhoods and DNA create a connection within a band that most artists can't achieve. Similar influences can help the band establish a common vision. 
"Being brothers, we've all grown up listening to the same music. A lot of the music of the 1950's and '60's scores our childhoods. Therefore, we all have a very similar vision for what kind of music we want to create as a band," AJR sharedin a 2015 interview.
AJR's distinctive sound helped attract their dedicated fanbase, and the band invites the audience to experience their cohesive vision, with one of their newest songs, "Next Up Forever," proclaiming "This is my imagination. This is how it looks and sounds." 
"AJR has such a unique sound and style. It was really cool to see them in concert," concert attendee and Northwest junior Marcus Mallen, said. "We love their carefree attitudes and the lyrics and beats of their songs."
One challenge most artists don't have to think about is establishing a distinction between family and band. When it comes to family bands, that distinction and prioritization is vital for the band's success and the family's. Nick Jonas said one reason the Jonas Brothers' broke up in 2013 was that the group had forgotten family was a top priority.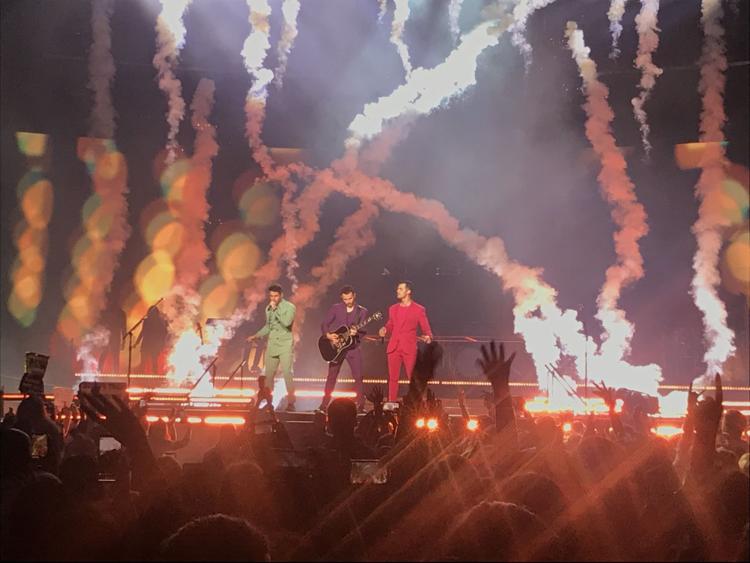 "We're family first, and that's always been our main priority, and so honesty within what we do as a group was really important," Nick Jonas said,in an interview with CBS. "In a nutshell, I said, 'Look, I feel like we've had some complications within the group for a long time without addressing them. I think this train will fall off the tracks without really getting real about some of the concerns.'"
As a result of improperly addressing issues, the band shattered and the familial relationships were at risk of faltering as well.
Joe Jonas told CBS he feared there was "going to be no more brothers, ever" after the band's break up. But their triumphant return, as the first boy band to reach No. 1 since 2013,according to Billboard, proved their six-year hiatus was only temporary and their relationships, as brothers and bandmates, could be mended. 
Junior Megan Nosbisch said the fans in Kansas City showed an almost overwhelming amount of enthusiasm for seeing the band back together.
"It was interesting to see them grown and hear how their voices have changed," Nosbisch said. "The best part about of the concert was the audience yelling the lyrics at the top of our lungs to the point where we couldn't even hear the Jonas Brothers singing at some points."
Both AJR and the Jonas Brothers' familial relationships were apparent during their performances, even past the family resemblance. The Jonas Brothers flashed snippets of cherished home videos on the screen during their Sept. 23 concert. AJR recounted memories of first performing on the streets near their childhood home and recording in their parent's living room, the namesake of their 2015 album, "Living Room."
With these bands, in addition to icons like the Bee Gees, the Jackson Five, the Naked Brothers Band and even Aly & AJ, prove that pounding on a parent's pots can be much more than "just a phase."