As the members of the 97th Student Senate took their respective positions, senior Alyssa Lincoln passes the torch as president to allow the new Senate to represent and aid the Bearcats in future endeavors.
Through Lincoln's time at Northwest, she has been involved in residential life, the creation of new organizational policies and has also made many friends along the way.
Senior Hayley Limbach got to know Lincoln from mutual friends and through living together. The first day they were moving into their house, Limbach and Lincoln had to fight off bats. Through this encounter, their bond began.
"She just cares so much," Limbach said. "She uses her whole heart in everything that she does. With logic and passion, she's able to direct people in the way that she sees fit but also ways that others see fit as well. … She's not leading the people, she's helping the people to lead themselves."
Despite Lincoln's passion for helping students, she said it was more by accident that she became part of Senate, as she recounted her freshman mistake of putting her student email everywhere.
"So when you're a freshman, you kind of put your S number down everywhere and all of a sudden you're in 62 different organizations, and that was true for me as well," Lincoln said. "From the outside, I really had no intentions of getting involved with student government. … I think I just really liked the formality of it. I loved the people. … There were a lot of things that appealed to me once I got into the organization. I just accidentally fell into it."
Lincoln's role and presence was a more gradual and traditional path to becoming Senate President instead of jumping from representative to president. She started off as a freshman representative and each year thereafter took on more crucial roles.
"My whole freshman year I made mistakes," Lincoln said. "I motioned incorrectly; I did everything wrong. I just worked really hard in my committees. Then they kind of noticed me as somebody who's pretty dedicated … so my sophomore year, I was committee chair, and then my junior year, I ran for vice president under Katie Brown, and then my senior year, obviously, I ran for president."
Lincoln said the biggest reason she went with the more traditional route was that she lacked self-confidence. As she gained more support from those around her and built up her confidence, she was able to believe in herself and secure her position as president.
Lincoln's leadership experience began in high school, as an athlete leading on the court, event planning with her senior and junior class board or being a Mustang Mentor, which is simply a peer adviser. Her ability to lead only grew as she continued on to college.
"The leadership roles I have taken in stride to become the leader of a student government have shaped me a lot like being a residential assistant," Lincoln said. "There's not a singular conflict I don't think I can't tackle. It makes you really good at confronting things and problem-solving and relationships."
Lincoln said the biggest difference between high school and college was the way the student government runs. Student Senate is more autonomous and self-governing with little interference from the advisers.
"I think about my actions, and I think about next moves and what'll this do if I do it this way?" Lincoln said. "What'll happen if I do it this way? Because you've got to think about those things for the future of an organization because Dr. (Matt) Baker and Dr. (Daniel) Smith aren't going to be like, 'Listen, no, you can't say that.' They'll let me do it, and once I mess up, they'll be like, 'OK let's work through this now.' … You really got to fail on your own."
Vice President of Student Affairs Matt Baker is the adviser for Student Senate and Lincoln for the spring semester. Instead of telling people what to do, he prefers to ask them questions and make them think about multiple aspects of the situation at hand.
"I think the biggest support I can give them is to ask them questions and try to help them really capture their own thoughts," Baker said. "I think the thing I've done the most to support Alyssa is to give her perspective. I don't ever say something's a good idea or a bad idea. I give her things to consider thinking about."
Lincoln said he has provided her with a lot of guidance, especially during certain situations she found herself stuck in. He also assisted with communication and tasks that were difficult to handle as a student leader along with being willing to have open dialogues about anything.
Along with Baker, Lincoln's support system is her vice president, senior Shyla Kallhoff, who has been friends with Lincoln most of her life.
Kallhoff has always admired Lincoln's leadership and authenticity. Lincoln and Kallhoff ran on the same ticket for Senate, and she said it was unreal when they learned that they had won.
"We had just worked so hard in campaigning and put so much money and time and effort into it," Kallhoff said. "It was just like we had found out and we took the cutest picture of us hugging. It was so cute, but then we were just like 'We can do this.' … We had the highest voter turnout last year that student senate's ever had. If people believe in us, then we believe in ourselves."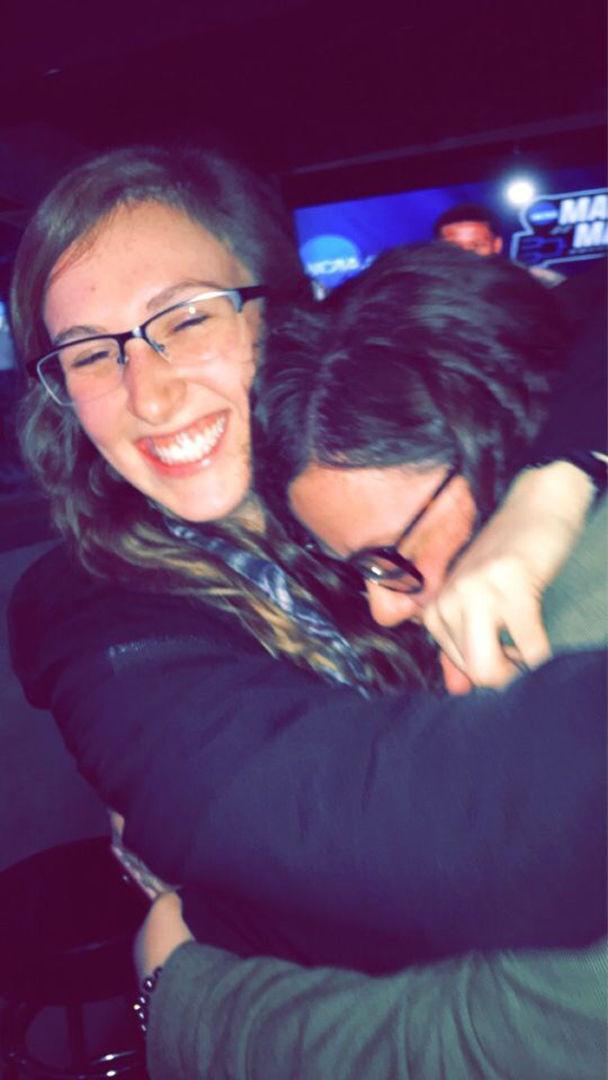 When Lincoln got the position of president, she didn't quite realize everything that came with the job title.
Lincoln said she thought she would be in contact with other student senators and constituents more, but instead she found herself working more with faculty, staff, administrators and the Board of Regents.
"I thought having a cool name tag and added email accounts would be cool and novel. But, it was a very small perk or nuance to the role, in addition to some key very important tasks," Lincoln said.
Despite some presidential duties she wasn't expecting, Lincoln loves being in Senate and said she wants students to feel safe taking a chance and being able to see the payoff.
Lincoln said she thinks she is personable and she wants people to feel like they can come to talk to her about anything, even about their day.
While Lincoln's love for representing students is deep, she is ready to move on.
"I have a lot of friends in Greek Life, and they say that once your four years are done, like once you've done four years in your chapter, if you're not ready to move on, maybe your chapter hasn't done what it was supposed to for you," Lincoln said. "I feel the same way for Northwest. ... I feel like I've done what I can do here and it's time for me to move on."