There's a 16-hour, $1,000 flight separating Susan Maharjan from his hometown of Kathmandu, Nepal.
With the money and time it takes to fly home, the junior has created a second home at Northwest through involvement and sharing his own culture.
After studying abroad for the past two years, Susan Maharjan has come to realize the U.S. is more than what he first thought. He now describes it as busy, diverse and fun, even in the small town of Maryville.
As an active student involved in many organizations such as the Nepalese Student Association and the International Student Organization and upperclassman resident assistant at South Complex, Susan Maharjan said it can be difficult managing time.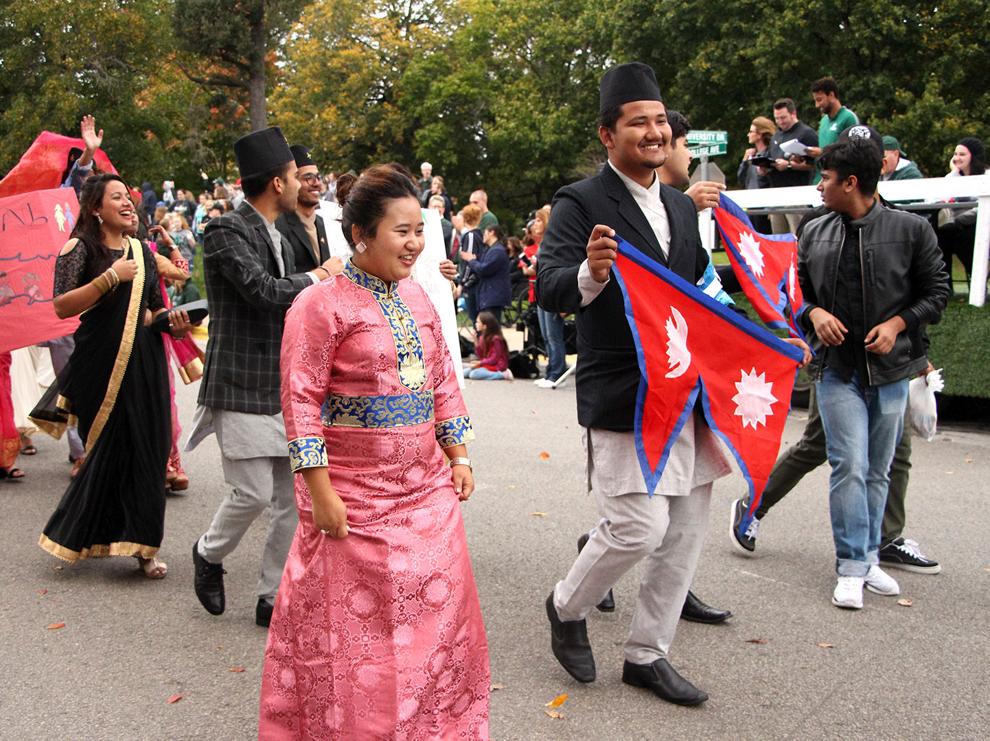 Even with so much time dedicated to being an RA, Susan Maharjan suggests this position for all international students because it covers residence hall costs and allows them to talk to a variety of students. 
South Complex Hall Director Jacob Wood has been in the same building as Susan Maharjan since his freshman year in Millikan Hall. He said he has seen a lot of growth in Susan Maharjan from being more quiet and reserved to always talking and joking with residents.
"He does enjoy pranking people, like scaring them. He did not use to do that as a freshman," Wood said. "(He has) grown to be able to communicate with people and really taking on that leadership role as an RA and being able to connect with individuals he didn't normally connect with."
Susan Maharjan is usually patrolling South Complex or walking around campus with his untamed black hair pulled into a mini ponytail. With a contagious laugh, constant grin and 6-foot stature, Susan Maharjan is easily identifiable in a crowd, Wood said.
Susan Maharjan is so used to patrolling his TV series-themed hallways that even when he's not on duty, he finds himself jiggling certain door knobs to make sure they're properly locked.
Despite his familiarity around the halls of South Complex, there was a time when Susan Maharjan almost wasn't able to attend Northwest.
As a student going abroad for a year, Susan Maharjan was required to take the SAT, an English proficiency test, and make sure all other documentation was properly acquired. It then took about nine to 18 months to get processed.
After everything was cleared, he was supposed to go in for a two-to-seven-minute visa interview. He and his childhood friend Bivash Prajapati both wanted to go to the U.S. and applied for visas at the same time. Both were rejected within minutes after their interviews.
The interviewers said they had concerns about his intent to return home if they granted his visa, which is a major consideration in the approval process, according to the U.S. Department of State — Bureau of Consular Affairs.
Susan Maharjan began to worry about getting the visa but applied for a second time. He said to himself if he wasn't able to obtain a visa this time, he would stay in Nepal and receive his education at a local college.
The day before he went in for his interview, Susan Maharjan heard bad news from his friend. Prajapati was once again rejected. While this would have discouraged most people, Susan Maharjan said to himself he would try his best, and if he didn't make it in, then that was OK.
"I'll just go in for the interview, and if I get accepted, that's fine, or else I already have my friends back here, and I'm just going to stay here," Susan Maharjan said.
Once he finished answering the questions, the interviewer said he was signing his visa. He couldn't stop smiling for hours and called his dad and his sister about getting the visa.
His oldest sister Sujina Maharjan, 31, said she's glad that he went to the U.S. because before, he was a "really lazy, lazy, lazy boy."
"It's an opportunity to grow. If he was back in Nepal, he wouldn't be the same as he is now. I am sure he would be dependent on the parents," Sujina Maharjan said. "The way he's doing independently everything over here — studying and working in college and the time management he is doing makes us really proud for his sake."
Before Susan Maharjan came to the U.S., he didn't really know what to expect except tall buildings.
"When I was back in Nepal, I think like, 'Oh, U.S. — there are high buildings everywhere," Susan Maharjan said. "After I come here, I realized it's only the cities. … When I come to college, I was like, 'This isn't what I was expecting.'"
The first thing he noticed beyond the short buildings was the lack of traditional Nepalese restaurants. Even though he enjoyed Chinese and Indian food, Susan Maharjan said it was not spicy enough.
So Susan Maharjan used his own cooking skills to create the cultural food he loves most. One of his favorite dishes to make for others is momos or dumplings with a spicy sauce.
Wood has had a variety of Nepalese dishes thanks to Susan Maharjan, and he said his favorite are the momos Susan Maharjan makes.
"He brings to the table living in Nepal all of his life," Wood said. "That gives us a side we don't normally see with a domestic student. He's excited to share his culture with you."
Susan Maharjan loves making food for others, especially spicy food for people who aren't used to Nepalese spice. He said food helps spread culture in a simple way. It can easily connect two people from different backgrounds to find something similar.
"Food and culture has a deep connection," Susan Maharjan said. "In my community, we have lots of festivals that we celebrate. Every festival is incomplete without food. … In my experience in Northwest, I have hung out with lots of friends from different places and have tried different types of food they eat."
Whenever Susan Maharjan makes momos, other students who eat it often compare it to their own culture's dumplings. He said his momos remind his Korean friend of a Korean dumpling or mandu, but less spicy. His Turkish friend said it's like their culture's manti but slightly larger.
"I think food helps to connect and know more about the culture of people from different places," Susan Maharjan said.
While he can find certain spices in Maryville, they don't tend to have as strong of a taste as back home. There are a few specific ones that he hasn't found like chat masala, fenugreek seed and mustard oil. He said that he is able to order them on Amazon though. Sometimes, if one of his friends is headed down to Kansas City, Missouri, he's able to make a special trip south for the specific spices he needs.
Ever since he was young, Susan Maharjan has been able to cook for himself. His sister Sujina Maharjan recalls when her only brother was about five or six years old and made eggs for himself.
"He used to wake up really early like 5 in the morning," Sujina Maharjan. "He used to get hungry, but he wants someone to cook breakfast for him, but we are like sleeping, right? ... So he wakes up, and the kitchen is like high and he is small. So he used to get the steps, and he used to make an omelet with two eggs."
Sujina Maharjan couldn't help chuckling as she recounted her story with her brother. The only part she didn't like about waking up to her younger brother's cooking was waking up to the mess.
"I would go up and see all the mess in the kitchen, and I'm like so mad for him," Sujina Maharjan said. "And he's like, 'You guys don't cook for me. I'm hungry, so I made my own food and I ate it.'"
Along with cooking Nepalese food, Susan Maharjan enjoys playing the bansuri or bamboo flute.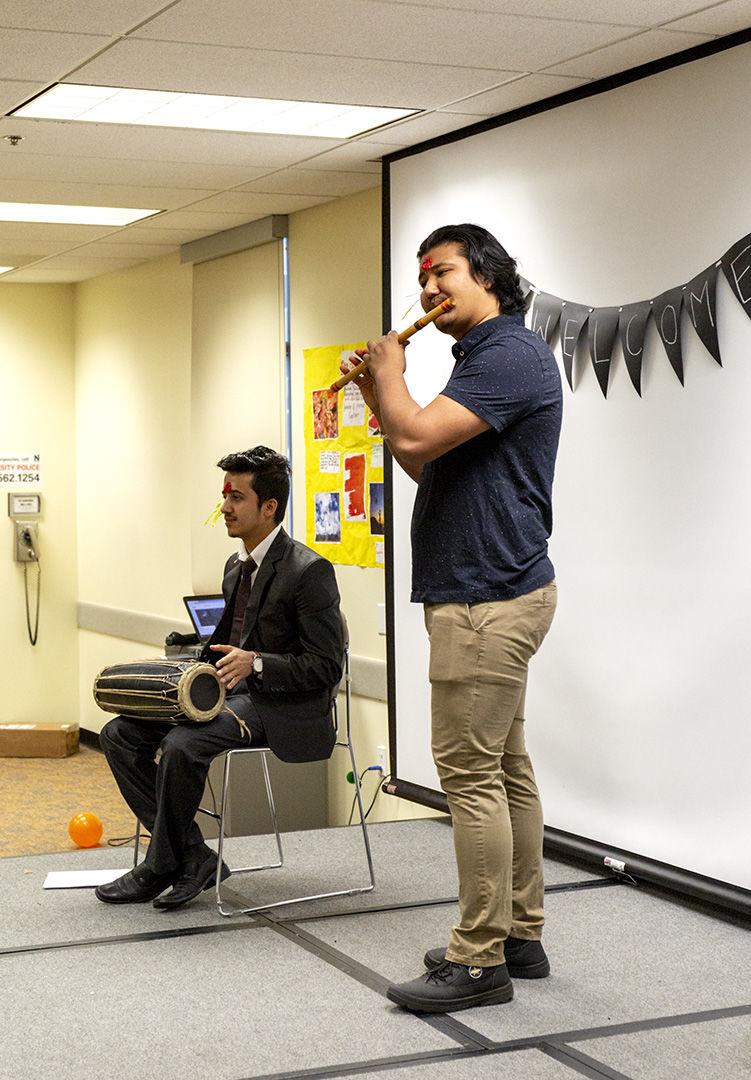 His favorite songs to play are traditional songs where he can share his culture through the airy sound of the bansuri or through the "thump, thump" of the madal, which is a cylindrical two-headed hand drum.
Susan Maharjan's father has always encouraged his only son's interest in music that he even bought him his first madal at 7-years-old. By the age of 12, Susan Maharjan expanded his repertoire of musical instruments and learned to play the madal.
"(My father) has always made me feel that he is always there for me," Susan Maharjan said. "He has helped me to learn a lot of things, and he is the reason behind why I am able to be me right now."
Even though his father is half the globe away, Susan Maharjan said his father has always supported him, whether that be through attending bansuri classes with him after closing the shop down or discussing buying new instruments and planning events to showcase what they had learned.
"My dad, he was like, that's our culture, our instrument he used to play back in Nepal," Sujina Maharjan said. "The way he is carrying it and playing it in a college in front of everyone — my dad is really proud watching him play the flute in every occasion. My dad is very proud, same as me."