With numerous social distancing measures in place, hundreds of thousands of kids are missing out on what they know as school, being taught a new way of learning. It's now up to teachers to fill students' days with enriching material without compromising their safety.
Education majors in their final year at Northwest worked all summer to prepare themselves for what the classroom would look like following a nationwide shut down and thousands of students without routines. 
This year's seniors entered the education program when Northwest established the practice of a full school year of student teaching instead of one semester.
Gregory Rich is an assistant professor in the school of education and director of field experiences, meaning he assists in facilitating the student teaching experience for elementary education majors at Northwest. After 30 years of time, effort and energy invested in public schools, Rich became a Bearcat with the goal of helping to build future teachers. Rich said the full year of experience sets Bearcat teaching candidates apart from others.
Rich remembers how unprepared the school of education was when Missouri schools were closed in April. Since then, he's worked with other educators in the state to create a plan to maximize the experience of future teachers. This led to the creation of TRIADs. A student teacher, university specialist and cooperating teacher — the classroom teacher — work together to prepare student teachers for what to expect in COVID-19 classrooms. This allows for faster problem-solving and more solutions to be shared with other schools.
There are over 100 teacher candidates through Northwest working across 80 school districts in four states this year. Rich commended those districts on their willingness to accept student teachers despite regulations to limit the number of people in the building.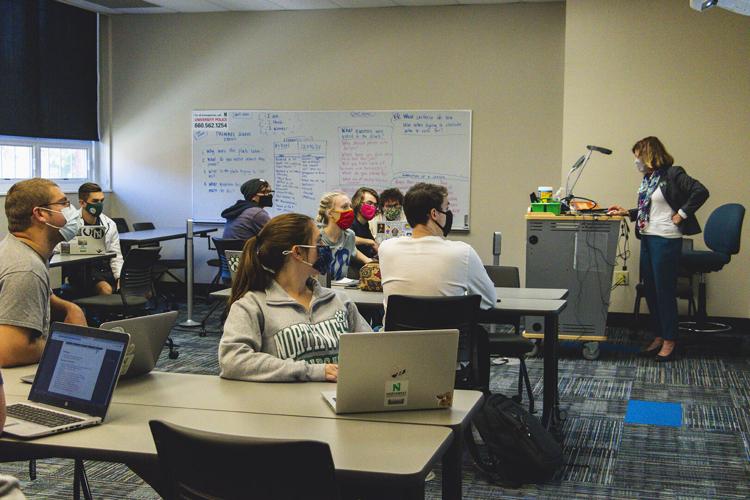 Troy Dunn, principal at Minnie Cline Elementary School in Savannah, Missouri, said Northwest student teachers have so much to bring to the table to keep students safe and on-track.
 "I don't know where we'd be without their ability to take the right level of initiative and keep building powerful relationships with students," Dunn said. 
Northwest senior and student teacher Taylor Arthur is a member of the Minnie Cline faculty. The school has had as many as 33 students or teachers in quarantine at a time. Dunn has noticed the unique rapport Arthur and her cooperating teacher have created. Dunn said Arthur's cooperating teacher can inspire the students to complete any task despite the unique environment children are in.
Arthur said her ability to fill multiple roles allows her to prioritize student's emotional well-being over curriculum.
"Some days I'm a social worker, a janitor, a friend, a mom, a counselor," Arthur said. "You have to build data on what they're achieving."
Arthur is a member of Northwest's Zeta Lambda chapter of Phi Mu, student teaching full time with a part-time job and assignments due weekly. She commutes an hour a day to Minnie Cline Elementary, teaching 22 students for seven hours a day with no breaks for lunch or recess, as students eat in the classroom now. Many schools Northwest seniors teach at cohort their rooms, meaning classes never interact with designated lunch and recess times. Minnie Cline has fenced off areas of their playground to maintain distance.
Dozens of schools across the state are following the same mitigation efforts: washing hands often, social distancing both indoors and outdoors, wearing a mask and staying home when sick. 
As of Oct. 11, 382,679 school-age children have contracted COVID-19, with 82 deaths since February. Cases are down from July but still concerning to parents and educators. Dunn said educating himself, his staff and his students has been the key to keeping numbers down.
"It's important reinforcing the importance and taking the professional responsibility to wash your hands and distance when you're even around faculty and always wear your mask," Dunn said.
Northwest senior Madison Young said the challenging experience of COVID-19 only reaffirmed her decision to be a teacher. Young teaches first grade at Manchester Elementary School in Omaha, Nebraska. She was impressed with her school's mitigation measures, saying they did more than necessary to keep students and faculty safe. Senior education major Isabelle Garcia-Blackwell agreed.
"I came up with an idea to make the face masks personal to the kids," Garcia-Blackwell said. "Each of them took turns saying who they wear their masks for. They would say family members, friends, one said 'the world.'"
Assistant professor Travis Dimmitt said this ability is what sets Bearcat teaching candidates apart from other future educators. When freshmen enter the education school, one of the first skills they're taught is how to manage student well-being before making lesson plans. Dimmitt said this process trains students' brains to integrate children's well-being in every step from then on.
"I see them as freshmen and then as juniors and seniors later. I noticed such a growth in confidence and an even bigger want to be in the field," Dimmitt said. 
Bearcat teachers had unique ways of finding their passion for teaching. Garcia-Blackwell grew up in a family of teachers. These people led her to get a degree in education. She's specializing in mathematics education. She now has her own passion for molding young minds.
"They say the smartest stuff," Garcia-Blackwell said. "Seeing their minds work when you rephrase something or teach them a new way to do something is amazing."
Senior Katie Allen's grandfather taught at Northwest. Her parents were Bearcats when they met. When Allen's father died the second semester of her freshman year, professors Jill Baker and Brian Swink prioritized Allen's well-being while being flexible with deadlines on her assignments. Allen recently spoke with Baker and told her without Baker's support and love she probably would probably have dropped out. 
"Without both, I would probably not be on track to graduate let alone graduate with honors," Allen said. "They are irreplaceable human beings, two of Northwest's absolute gems."
The soon-to-be educators are looking forward to having their own classrooms come fall of 2021 and have hopes of an in-person graduation. The graduates will attain their master's degrees within the next few years, focusing on establishing themselves in their districts early on. Dimmitt said he hopes this group will use the unique experience they've had this year to maximize their futures in the classroom.
"Connection is still the most important thing," Dimmitt said. "Right now, teachers are trying to build an airplane as it flies. It's true commitment to the craft."