For at least the last four years, Matt Tritten has been decidedly sure of where he is headed.
This was true at 11:30 a.m. Jan. 4 when he emerged from his two-story Maryville home and out into the 30-degree air. Tritten, the underwriting sales associate for KXCV-KRNW and color analyst for the Bearcat Radio Network, stepped down a flight of concrete stairs and began to walk toward Bearcat Arena.
He walked away from his home, which sits just south of First Street, and away from the truck stowed away in his garage, one that could have delivered him to Bearcat Arena quicker than his own two feet, one he bought new in 2015, and still, one that he avoids as much as he can.
For a January day in Maryville, the weather wasn't bad. The sky was cloudless. The wind was calm enough for Tritten's truck to remain garaged and for the 30-year-old, wearing a pair of light-wash jeans and a light-weight North Face jacket adorned with a Bearcat Paw, to start his 11-minute walk to work.
His path was not the most efficient, Tritten said. It was winding and indirect and as removed from busy roads as it could be. It was not the straightest shot to the arena, which sits less than a mile away from his home. But it's the path he takes.
"Gets me hyped up a little bit more before the game, I guess," Tritten said.
Tritten, 30, doesn't ever get stopped by Northwest fans or community members on his introspective walks to the stadium, he said. He isn't near famous enough. He isn't sure who the most famous person in Maryville is, but he spends a lot of time over the next several days thinking about who it might be. He is sure it's not him.
He's misidentified in public as his brother, Brandon — who used to sell real estate in St. Joseph, Missouri, before becoming a partner at a Platte City insurance group — as often as he is recognized as himself. People who do recognize him tend to remember him from his days as a TV personality at KQTV, a St. Joseph-based ABC-affiliated television station, a stint that lasted five years. Others who do recognize him tend to expect an inside scoop on Northwest Athletics.
"You have to be in radio for a super long time for people to be able to recognize you," Tritten said. "It's funny, because there are a lot of people, too, that'll come up and be like, 'So, what's this all about?' thinking that I know. And I'll say, 'I know as much as you.' There are rare times where I know more than the average citizen."
---
---
With Tritten, this sense of modesty is always present. Two and a half minutes into his trek to the arena, he insisted he is not recognizable. Five minutes into his walk, he was waved at from across the street by a middle-aged couple clad in Northwest gear. He waved back, then swore that he didn't know the pair of Bearcat fans and that they didn't know him either.
"Those are just friendly Maryville people who wave," Tritten said.
There was still close to two hours before Northwest women's basketball was slated to tip-off against Northeastern State, and Tritten was headed to a broadcast booth that watches over Bearcat Arena, one he's helped occupy in some capacity for the last four years.
Tritten, who was raised in a Christian household in Union Star, Missouri, graduated from the town's namesake high school in 2007. With a population hovering at less than 500, the extent of Union Star's amenities included a single gas station, one that sold deli sandwiches and pizza and Doritos and not much else. The nearest Walmart was in St. Joseph, 20 miles to the east.
Upon moving to Maryville, the newfound array of fast food restaurants and pizza delivery options at Tritten's disposal served as a revelation.
Tritten left Northwest with a degree in broadcasting in 2011 after four years of undergrad and started training for his first shift at KQTV within hours of walking the stage.
Tritten started his tenure at KQ2 as a morning show producer — a position he'd secured more than a month before his graduation — and ended it as the station's sports director. He was built for the latter. He wasn't a fan of the former.
His first position at Channel 2, Tritten said, required him to be on-call one night a week, prepared to cover whatever needed covering — housefires, car wrecks, daily tragedies. It was a different world than the one he'd left behind at Northwest and the one that awaited him as sports director.
"That's the beauty of sports, though," Tritten said. "I couldn't do the news thing every day. It's just too taxing, I think, mentally."
Tritten's time in television represented what he thought he would be when he enrolled at Northwest. He eschewed an NAIA basketball career to pursue a broadcasting degree here. He passed up visits to other schools to tour the radio facilities offered at Northwest. He was always gunning for a career in broadcast, he said.
For Tritten, the original plan was to be Jack Buck, or at least, the next Jack Buck. Or Stuart Scott. Or Rich Eisen. Or any number of sports radio and television personalities from the early 2000s. Growing up, it seemed like the job he was meant for.
Tritten solicited autographs from sports anchors and reporters who visited Union Star to cover high school basketball games while he was in elementary school. He did the same thing at an Applebee's once. At 12 years old, he would turn the volume down while playing Techno Bowl on his Nintendo so he could provide his own commentary, molding a craft that would later become his career.
"Little things like that," Tritten said. "It was fun."
In his time at KQ2, though, Tritten was focused on being himself, even while everyone was pushing him to be someone else. Stuart Scott had a catchphrase. Tritten didn't want one.
"Everybody was like, 'What's your catchphrase?'" Tritten said. "'Be good first. I'm still not any good at what I'm doing, so why would I have a catchphrase?'"
Tritten joked his way through the same interaction more than once back then, providing insight into a sort of authenticity not always seen in local television. He was and is down to earth. He admits there is a certain sized ego that comes as a natural prerequisite for pursuing a career in broadcast, but he has kept that baggage checked at every stop of his career.
Perhaps that's why Tritten moved on from KQ2 after five years but didn't really move up. He stayed in St. Joseph and took on a role as an assistant general manager for the St. Joseph Mustangs.
---
---
The goal, Tritten said, was to gain experience in the realm of business while still working within the world of sports. The plan was to stay with the Mustangs for at least a few years. The plan changed a year into Tritten's tenure with the Mustangs when he got a call from John Coffey, who then served as the station's sports director, about a position at KXCV.
"When an opening came up here, he was really the first person I thought of," Coffey said. "It really has worked into a very good situation."
"I was hoping, five-six years, then I'll find a way to get back up here (to Northwest)," Tritten said. "But if I didn't jump at that one, you just don't know when that next opportunity might come, so I made the leap."
The leap, of course, took Tritten into his underwriting sales position at KXCV, a job he was only qualified to fill after his year with the Mustangs.
And the leap took Tritten away from the path that he once thought himself to be on. He moved into a more stable role within a smaller market. His ESPN dreams were beyond deferred. Tritten said he expected when he took the job — and still expects now — for KXCV to be his "end-all, be-all," a station that could serve as his home for the next 20 or 40 years.
The decision to retreat to Northwest and KXCV was, on the surface, the opposite of what Tritten originally wanted. But the 30-year-old has leaned into it. After first saying that he expected to pursue a bigger market after St. Joseph, Tritten reneged. That narrative isn't honest with himself: He was never all that comfortable with the prospect of leaving his comfort zone.
"You know, I kind of said all this B.S. about wanting to be, like, a national whatever," Tritten said. "But then I thought about it more, and I think I was always cut out to just stick around here anyway."
"If I can impact some students positively that way," Tritten added, "then I'm probably overachieving."
The leap Tritten took in 2017 brought the small-town native and his small-town wife, Madi, back to another small town. And it brought Tritten back to Coffey, the guy who reached out and helped him land the underwriting sales job at KXCV, the guy who has served as the voice of the Bearcats for more than 20 years and the guy who was waiting on Tritten in the booth Jan. 4 when he arrived at Bearcat Arena.
---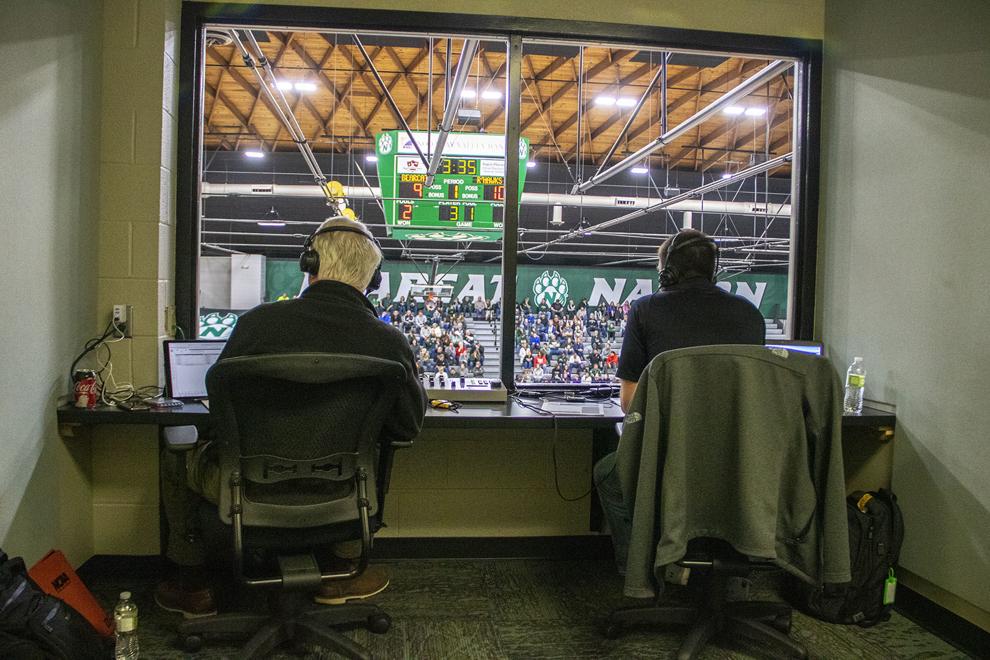 ---
Coffey, of course, is the man who has occupied the other half of the booth at Bearcat Arena for more than three decades, who might actually be the most famous person in Maryville. He is, at the very least, ahead of Tritten on the hypothetical list. Tritten has no plans to pass him.
Coffey and Tritten have been broadcasting together for parts of five seasons now, sitting next to each other in the press boxes of various athletic venues. They spend hours together every week, but they don't have any specific routine — a strict pattern would be the opposite of their working goal: to keep the broadcast fresh.
"I'd hate to be too artificial," Tritten said.
In his 35th year as a broadcaster, Coffey said he's having as much fun as he ever has, and he attributes part of that to Tritten. His broadcast partner is hardworking and prepared, Coffey said. They have great chemistry, perhaps highlighted and embodied by the fact that Tritten will do pretty much anything to see if he can make Coffey laugh on air.
In the early-going of Northwest men's basektball's matchup with Washburn Jan. 11, Coffey, serving in his normal role as the play-by-play announcer, narrated to legions of Northwest fans as Washburn's Jalen Lewis let go a midrange shot, hoping to narrow Northwest's 7-2 lead.
"Jumper from 12 feet out went 10," Coffey said. "And the rebound goes to Northwest ..."
Time marched on. Coffey continued to provide play-by-play for the next 13 seconds — a near eternity in the realm of broadcast — without a word from Tritten. When he finally saw an opportunity to speak, to add color to Coffey's sketched canvas, Tritten reverted back to the missed jumpshot. He had something to add.
"That might be the most polite way to say 'airball' I've ever heard," Tritten said as Coffey started laughing on the air. "'Shot from 12 feet, only went 10 feet.' That's why you're the best, John Coffey."
"I don't know about that," Coffey said.
The moment served as the ideal snapshot for what the pair has done together for parts of the last four years, depicting the genuine relationship they share both on and off the air. While Coffey paints a picture, Tritten thinks of one-liners. More than anything, it seems, he wants listeners to have as good of a time as he is.
"If we can kind of be part of that and make someone smile or laugh, or maybe it's just something stupid that I say unintentionally that, you know, that's good," Tritten said. "It's more than just the X's and O's, I think, of the game. Which is good, because I'm not a very bright guy."
---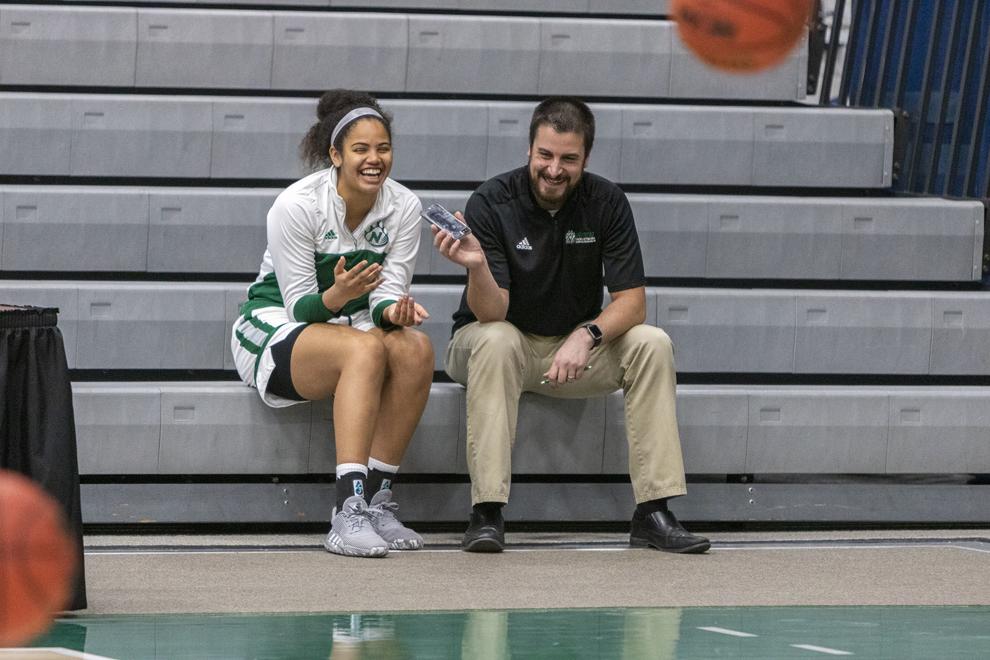 ---
More than four seasons into the job, Tritten still seems unsure if he's any good at it. He's the No. 2 man on his own broadcast crew and claims he's No. 3 in line for Coffey's throne as the voice of the Bearcats.
"You never know what's gonna happen down the line," Coffey said. "He's definitely in the right place at the right time."
The right place at the right time is where Tritten has always seemed to be. But, he insists, he is not the heir to Coffey. He doesn't really want to be, either.
Tritten and his wife had their first child, Nolan, in 2017. Tritten's Wells Hall office is plastered with photos of his family, most of which include his two-year-old son. There are going to be things over the next two decades — little league games, music concerts, graduations — that Tritten isn't going to want to miss, he said. He isn't sure how much longer he'll want to keep making the walk to Bearcat Arena.
---
---
It's entirely possible, Tritten said, that Coffey's tenure, already nearing its fourth decade, outlasts his own residence in the radio booth.
Where that leaves Tritten is unclear, at least externally. His position as an underwriting sales associate is unconnected from his broadcast career. He might still be doing both in 10 years. He might be doing neither.
"I assume I'll be right here," Tritten said, looking out the window of his third-floor office at the east end of the campus he has helped occupied for parts of two decades.
If he never succeeds Coffey, and even if he does, Tritten likely won't be the most famous person in Maryville. He may never come close. And he is more than OK with that. He doesn't care to be the center of attention, he said.
And maybe that's why, on the surface, Tritten has settled where he is, never chasing the dreams he always planned to. He's OK with that, too. He achieved moderate fame in St. Joseph as an on-air talent. He helped run an independent baseball team. But where he is now, Tritten said, is where he should be.
"I feel more relaxed and just kind of at ease with everything than I have in a long time," Tritten said. "I don't know if that's asbestos in the house that's putting me to sleep at night or if it's just being in Maryville again, but I feel pretty good."
At the end of most of his broadcasts, Tritten doesn't rush, but doesn't meader, either. He packs up with purpose and gets set to head home. With Nolan and Madi waiting, he said, he gets home as quick as he can these days. Nothing was different Jan. 4. After seven hours of preparation and downtime and joking around and broadcasting, Tritten exited the press box and wished Coffey a good night.
Tritten walked out of Bearcat Arena into a climate that was decidedly colder than it had been seven hours before. But he didn't complain. Despite the biting cold, Tritten kept his hands outside of his pockets for his entire walk home. He took a slightly different route than he did to start his workday, but he is sure of where he is going.
"I'm not looking for what's next," Tritten says, in reference to his career path, but at this moment, it feels dual-purposed. "I know where I'm headed."
Eleven minutes after he leaves Bearcat Arena, Tritten is where he is supposed to be. Matt Tritten is home.