The sound of drums echoed through the auditorium. Stomping feet and clapping hands from both the audience and the performers were united together in rhythm. The performers on stage danced to the beat, not only incorporating their hands and feet, but the entirety of their body. Legs kicked high in the air and arms formed a pattern of up and down, never resting.
Step Afrika! performed Jan. 5 at the Ron Houston Performing Arts Center. According to its website, Step Afrika! is the first professional dance company in the world dedicated to what they call "stepping." Stepping is a type of percussive dance that uses the whole body as an instrument.
The performers in Step Afrika! are made up of African American college graduates who were involved in different sororities and fraternities.
"Stepping helps students socially and academically," said Emerald Holman, one of the performers. "It's a spirit of community."
Step Afrika! continued to have this "spirit of community" throughout its performance by encouraging audience participation. The audience would clap to keep the beat and were inspired to yell and stomp their feet or even jump out of their seat if something they enjoyed happened. Volunteers were also called up to the stage to learn stepping moves.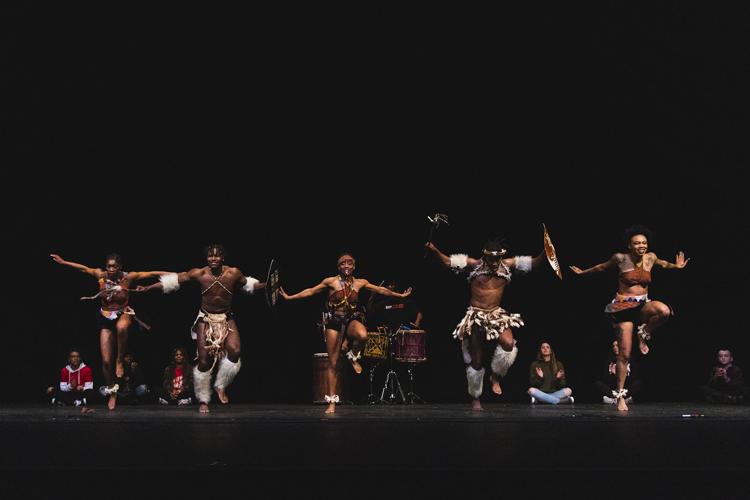 Throughout the program, performers would share fun facts about Step Afrika!. They shared facts about their dancing, such as Zulu tribal dancing and the South African Gumboot dance.
One of the performers said that originally, gumboots were worn to protect the workers' feet. The workers would use them as a form of communication, since they would be from different parts of Africa. This is called percussive communication.
Jasmyn French, a student at Northwest, said she liked dancing and learning about the culture. Hailey Rosemann, another student at Northwest, said she also enjoyed the stories that were incorporated into the show.
Garrison Kennedy, the director of events at Student Activities Council, said that Step Afrika! had been on campus three years ago, in 2017.
"They bring something to the Northwest table that we don't really get to witness," Kennedy said. "Northwest, I think, encourages multiculturalism, and this adds something to that."
SAC President Kyle Harris said that the turnout had been great then in 2017. While at the National Association for Campus Activities Conference, SAC booked Step Afrka! once again for this semester.
Kennedy said that Step Afrika! is an inspiration to all, not just dancers or steppers or even athletes.
"Just watching them proves that anyone can do what they want to do when they're passionate about it," Kennedy said.
Both Harris and Kennedy agreed that the audience turnout was fantastic.
"Especially considering the Chiefs parade," Kennedy said. "The audience was also really engaging."
Initially, Kennedy said that his favorite part of the show was the whole thing. While smiling and laughing, he then said that the Zulu tribal dance and the clothing were his favorite.
Step Afrika! will continue its tour around the United States.