Theatre Northwest presented the play "When She Had Wings" written by Susan Zeder at 7:30 p.m. Oct. 11-12 in the Studio Theatre of the Ron Houston Center for the Performing Arts. 
The play follows a girl named B, played by sophomore Krysta Ott, who is convinced she could fly when she was younger. With her 10th birthday approaching, she desperately tries to remember to fly, afraid she'll forget how. 
After a thunderstorm, B finds a mysterious stranger, played by sophomore Abbey Southworth, who resembles a bird and tries to teach her to fly in her backyard. 
Senior speech and theater education major Hailey Vernon directed the show. It was her fourth time directing at Northwest, but it was her first show in the Studio Theatre. 
Vernon has always enjoyed children's theater. She has directed Alpha Psi Omega's touring children's show. She was drawn to this particular play because the sound effects and most of the music were produced live.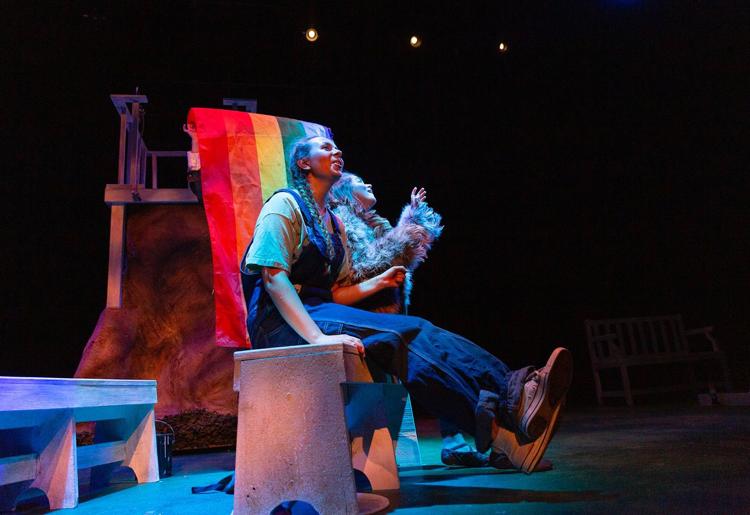 "I just want people to have fun and connect to their inner child," Vernon said. "I feel like as a lot of people grow up, they lose that. … They're afraid to be silly and just let loose sometimes in a child-like way. I want people to just experience an imaginative place from a whimsical type of show."
Junior Kailyn Peterson played the role of sound operator. She was a bit discouraged at first because she didn't think it would be a big role, but she said she quickly grew to love it because she combined her musical skills with her acting.
She used her violin, her ukulele, a rain stick, an electronic keyboard, bass drum, thunder sheet and kazoos. Peterson hadn't played her violin in about three years before she picked it back up for this show. 
"I got to do a lot with my facial expressions and my body as well as playing my instruments, so that was a unique opportunity that I got," Peterson said.
The show also had dances in it. Vernon worked with Taylor Holley, a choreographer, for two dance scenes. The final choreography wasn't established until the dress rehearsal two days before the first performance. 
To have the show ready in about three weeks, with the dancing and live music, Vernon said they would have 20-25 hours of rehearsal each week, not including the hours she'd use to meet with her actors individually.
"I think it was the hardest (show I've directed) because it's on a bigger stage," Vernon said. "There's more pressure because more people are coming. I'm just really happy that it's here and it's a show that children can actually come and see because that's not an audience we usually have."
Freshman Elijah Negozio immediately invited his family to the show when he was cast as B's father. He said he thought it was a show everyone in his family would enjoy, including his 6-year-old sister Matilda. 
"When I found out it was a very wholesome kid's show and I got to be a really good dad, I (knew) I have to have my family come see this," Negozio said. "I haven't seen them in definitely over a month. It was really nice for the first time actually seeing them since (visiting them in the beginning of the semester) to be in the theater, after we've had our opening night."
Negozio had done improv throughout high school. He said he had always wanted to branch out to theater but didn't have the opportunity, so he wanted to try out for as many theater shows at Northwest as he could. 
"When She Had Wings" was his first performance that wasn't improvised, so he said he was scared to make a mistake by forgetting a prop or messing up one of his lines. 
"For my first scripted show, it was a really great experience overall," Negozio said. "Everyone on the cast was great. I can't really nail down any specific moments but I can go on and on about how all the specific people were great in their roles."
Negozio said the cast connected over their mutual hate for Whoppers, the original malted milk balls that were an essential element of the show. 
Peterson said she enjoyed the small size of the cast. 
"We got to bond a lot more than bigger casts get to do," Peterson said. "I love being part of such a unique show."