KANSAS CITY, MO. — Less than a mile down the road from where protesters gathered for the sixth evening of the Black Lives Matter demonstration in Kansas City, a group of nearly 100 people stood holding black and gold balloons, celebrating and remembering the life of a black man. 
That man is Kylan Harrell, 22. He was shot and killed in Ferguson, Missouri, May 26. Police found him around 11:30 p.m. He was later pronounced dead at a nearby hospital. Over a week since his death, the police have not released any further details. 
In the midst of the June heat and a city, a country, that had reached its boiling point in regards to police brutality and the murder of George Floyd, Harrell's community gathered June 3. Some were brothers from Alpha Phi Alpha which he served as chapter president of, some classmates he'd met as a Northwest student studying organizational communication. Friends, peers, and brothers gathered under the Jacob L. Loose Memorial pavilion — which would serve as Harrell's memorial for the next two hours.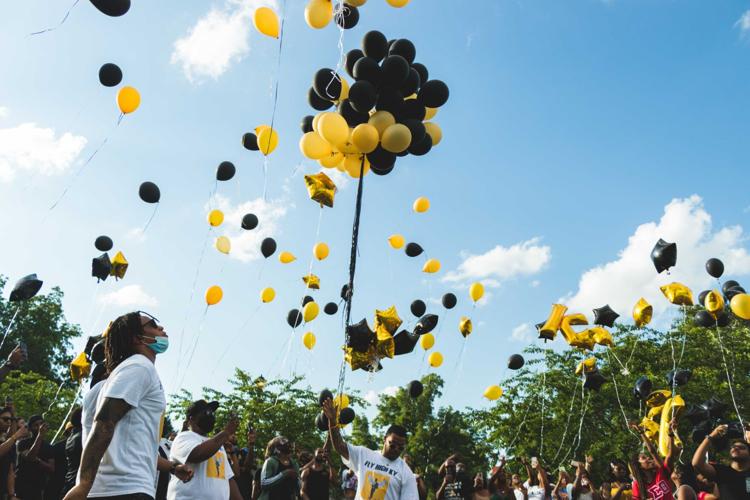 Deallon Walton, a sophomore at Northwest at the time, met Harrell when he was a freshman. He took him under his wing, helped him get into Alpha Phi Alpha. He also co-organized the event along with Andre Bly, who graduated from Northwest two years ago, in Kansas City to honor Harrell. 
"He was so goofy. He just told jokes all the time. And I liked him," Walton said. "After that, he would hang with us every single day."
They ended up getting a seven-bedroom house together with some other friends. Walton said that's where all the memories came from.
"It was fun for real. So this doesn't seem real," Walton said. "It really doesn't seem real."
Just last week Harrell called up Walton on the phone. The two talked about relationships and dreamed of what they would both do after graduating. Harrell was planning to move to Kansas City after getting a degree from Northwest in the fall to get out of St. Louis. He would have been the first in his family to graduate. 
On the phone Walton told Harrell, "I need to start calling you more."
"Bro, we got time," Harrell replied. 
Two days later he was killed. 
"That was my little brother," Walton said.
Walton stood at the front of the pavilion holding a mic and wearing a t-shirt with a graphic of Harrell that read "fly high Ky." He encouraged those who brought face masks to put them on as his voice boomed over the speaker. In recent days, the U.S. has seen the death toll of the coronavirus eclipse 100,000; despairingly hitting black communities harder. 
The group prayed and then walked out from under the pavilion and into an open space. On the countdown from seven, a significant number to Alpha Phi Alpha, the group released their balloons.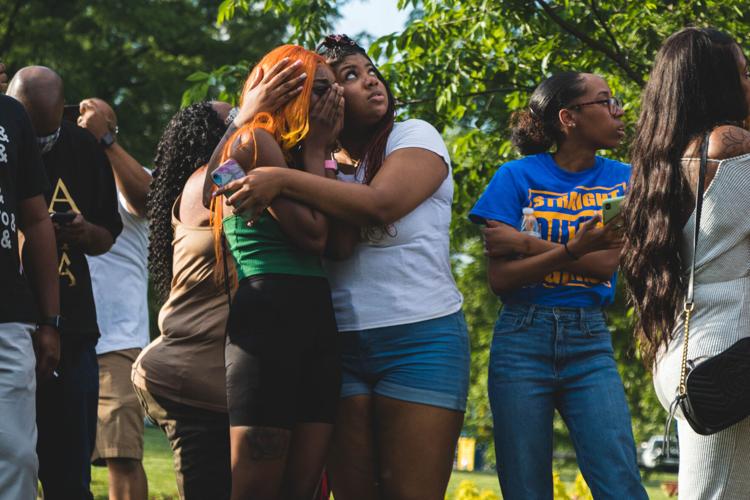 As the balloons lifted higher into the sky the people left below gathered close together, embracing. Some cried. Some looked to the sky. Some prayed. But after a couple of minutes someone turned on the music and all gathered back under the pavilion, dancing. Harrell would have wanted them to celebrate after all. 
The gathering in Kansas City was one of several memorials for Harrell. Memorials were also held in his hometown of St. Louis, and his college town in Maryville, Missouri. 
In Maryville May 31, around 35 people — Harrell's professors, advisers and University leaders — all stood in a large circle. The memorial was recorded and uploaded to YouTube by Harrell's professor Cindy Kenkel. 
Each shared stories of his success in the classroom, his leadership on campus and the loss of his brother just a few months back. They echoed that Harrell didn't have an easy life but that he just might change the world or his neighborhood and most definitely those who had the honor of knowing him. 
Justin Mallett, Northwest's associate provost of diversity and inclusion, said he had the opportunity to have several conversations with Harrell on a personal and academic level. He praised Harrell for his leadership with the Black Student Union.
"From where he came from to coming here to Northwest is an unbelievable testament to perseverance," Mallett said. "To come from his environment and to see the things he saw growing up and challenge himself to succeed academically... his loss is felt across campus."
Peony leaves were tossed into the air and bubbles thrown to the wind as Travis Dimmitt played his guitar, singing, "cherish what we have today before we go our separate ways. We are born dust and dust we shall return."
The Maryville memorial ended with people signing a card to Harrell's mom that would be sent to St. Louis where Harrell's family and friends gathered simultaneously, releasing gold and black balloons.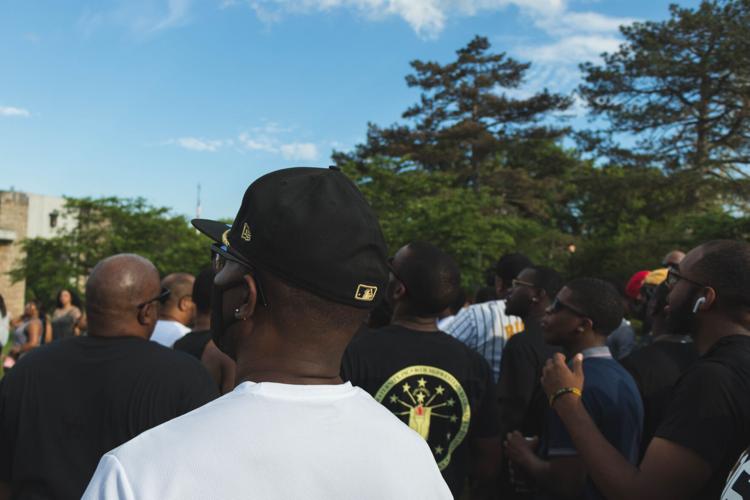 Harrell's mom did not immediately respond to an interview request.
Harrell was also active in the Men's Minority Organization, a student representative for the Black Alumni Chapter of Northwest Alumni Association and former employee in campus recreation. Harrell gave back to the Northwest community and left a legacy.
Walton said he's trying to continue Harrell's legacy. They're making a scholarship for Harrell's little sister who just graduated high school. He's trying to get Harrell's mom to move to Kansas City so he can visit more often. But there's one legacy he needs help fulfilling. He has a request. 
"Black people don't have any platform in Maryville," Walton said. "I just want a building to be named after Kylan for black students to go. We really don't have anywhere to go to throw events."