Four days before No. 2 Northwest football's Week 3 matchup against Central Missouri Sept. 17, coach Rich Wright made sure to say one thing at Northwest Athletics' media luncheon about the importance of the game.
"Scott (Bostwick) was a big part of my life," Wright said Sept. 13. "Yeah, we're gonna play well on Family Day defensively."
In front of the fans inside Bearcat Stadium, who mixed their usual green apparel with a bit of red, the Bearcat defense did exactly what Wright said they would do.
In honor of Bostwick's legacy after his death June 5, 2011, the team makes sure to carry on a few traditions for Family Weekend — red hats, black jerseys and playing well on defense. There were red hats scattered throughout the stands and the Northwest sideline, the team wore black jerseys and the defense played well.
Northwest held Central to negative three yards rushing and only 103 total yards on offense. The Bearcats also combined for eight sacks and one interception for the game.
"I was really proud of the effort," Wright said. "I felt like our kids were dialed in — they played hard. It was fun to watch. The big guy upstairs would've been smiling on that day."
The lights-out performance from the defense helped give the Bearcats the 24-7 win over the Mules.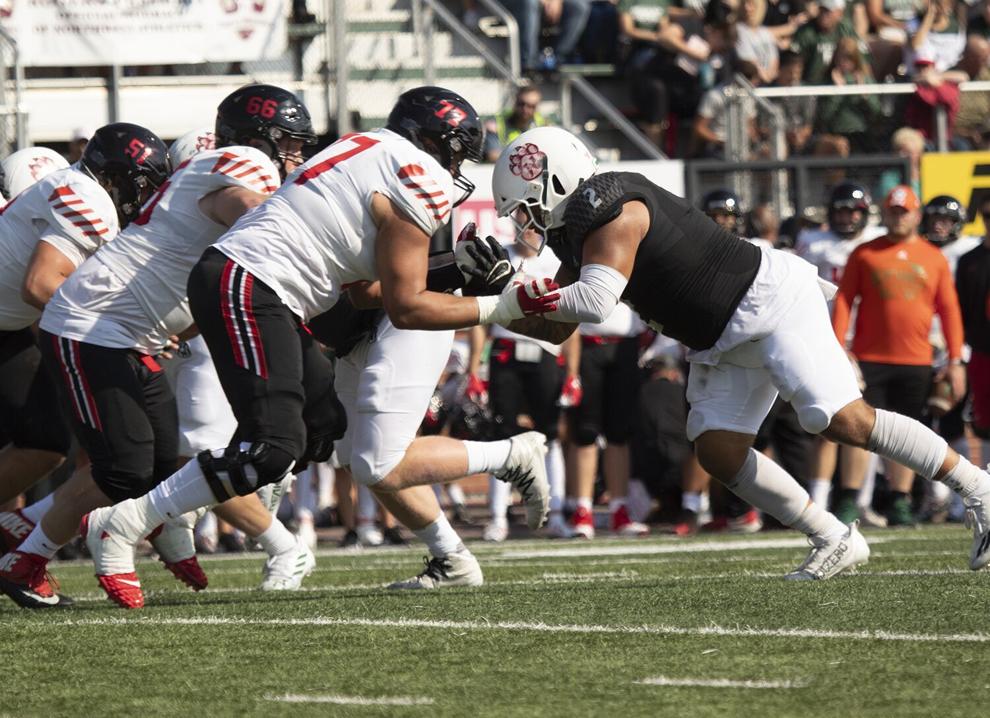 One of the players who seemed to be dialed in against Central was senior defensive tackle Elijah Green. Green terrorized the offensive line — and the quarterbacks — of the Mules for four sacks, which is tied for the second-most sacks in a game in program history. Whether it was grabbing Central sophomore quarterback Cedric Case's ankles or blasting through the line, the Maryville native made it happen.
"Kind of leading up to this, watching film, I knew that the tackles were very lungy; very head-heavy," Green said. "So, I knew if I was kind of to fade to the inside, I'll get them to sit down or sit their feet down, so I could beat them back to the edge."
Green said he felt like he could have gotten even more sacks, but as time progressed, the Mule's offense started to send running backs to chip him as he came off the line.
He also made his presence felt in more ways than just sacks.
With under 13 minutes left in the game, Central redshirt freshman and backup quarterback Tate Raboin rolled to his left looking for an option on a second-and-12 from the Mules' 25-yard line. Except, for Raboin, one of the players in front of him was Green.
Green closed in on the redshirt freshman, and, as Raboin let it fly, Green shoved the quarterback to the ground. On the other side of Raboin's pass wasn't another Mule, instead it was Northwest senior linebacker Sam Phillips who had just dived for the interception on the Central 30.
Green was credited with the hurry, and Phillips was able to fulfill his statement from the luncheon Sept. 13 of wanting to play like his hair is on fire.
"He's gone from a starter to one of our best players, and it's just fun to watch a kid like that finally get to have the light switch turn on and play at the level in which he's playing," Wright said about Green.
Northwest defense did not have to win the game by itself, with the offense totaling 181 rushing yards and 165 through the air.
Senior quarterback Braden Wright threw for 28 yards. While that number may not jump off a statsheet, that was enough for Braden Wright to claim the No. 8 spot in program history for career passing yards with 6,210 yards.
Two players accounted for all the scoring from the Bearcats, as junior quarterback Mike Hohensee recorded a passing and rushing touchdown, and senior running back Jamar Moya had one receiving and one rushing touchdown.
Moya amassed 160 yards on offense — 91 rushing yards on 16 attempts and 69 receiving yards on seven catches — in addition to his two touchdowns.
He said he's very happy to help out the team in any way he can, and he likes to show off his versatility while doing so.
"I take a lot of pride in that," Moya said. "I feel like that's my best ability."
Whether on a run play, or on the receiving end of a pass play, Moya tallies yards in a number of ways. He jukes around defenders, and sometimes he'll plow through them.
Which is another ability he said he takes pride in.
"I'm little, so a lot of people think I can't bring it, so I'll catch a lot of people off balance," Moya said.
Mother nature made them wait for it with a delay of one hour and 30 minutes due to lightning in the area which postponed kickoff until 3 p.m., but the Bearcats eventually came away with the 17-point win against their MIAA foe at home.
"We were super, super ready and energized," Green said. "Family Weekend is all about Scott Bostwick, who was a defensive coach himself, so he kind of had this thing where we're gonna fly around like green beans with our hair on fire. That's exactly what we did today."